Many thanks to the community for joining us before Christmas for our Christmas performance 'Fireside Nativity'. Without you and all our parents the children would not have had such a positive experience of performing. You were an enthusiastic and supportive audience.
We are hoping to run a beetle drive sometime this term and will let you know of the date once decided.
It is also time for enrolling 4-year-olds for school! Please follow the link below to the Highland Council website. If you are unsure or have any concerns do speak to your ELC provider or you can phone/message me, Louise Robertson at Aldourie PS on 01473 751272 so we can discuss.
Enrol your child for school | Enrol your child for school | The Highland Council
| | |
| --- | --- |
| | Enrol your child for school – The Highland CouncilPrimary 1. If your child will be five years of age on or before 29 February 2024, they are eligible to enrol for Primary 1. If you wish to enrol your child for Primary 1, please do so during enrolment week.. Enrolment week for Primary 1 pupils will take place from Monday 30 January to Friday 3 February 2023.www.highland.gov.uk |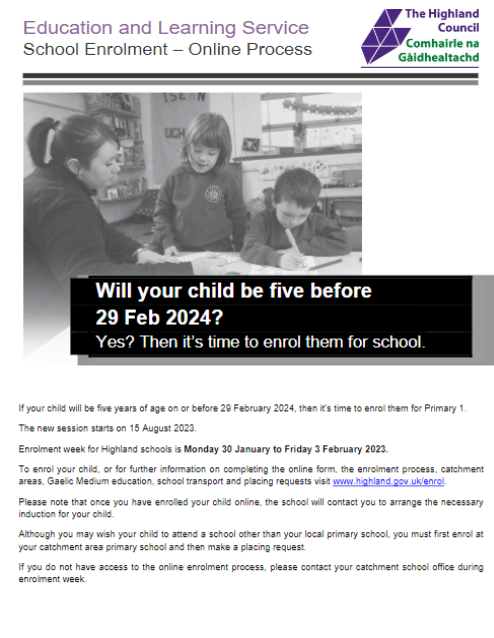 Kind regards
Louise
Mrs Louise Robertson
Cluster Headteacher Aldourie and Foyers PS.
Aldourie PS Foyers PS
Aldourie Foyers
IV2 6DP IV2 6XU
Tel: 01463 751272 Tel: 01456 486612
Mob: 07734469367 Mob: 07734469367