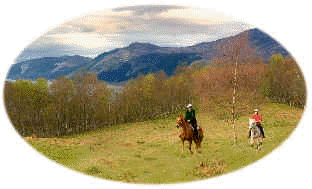 Ride our quality horses in spectacular scenery in the Loch Ness glen. We only take experienced riders, who must be competent at all paces, so this is not "trekking."Ours is a small, friendly yard, with good off-road riding, indoor and outdoor arenas, show jumps and cross-country.
As well as hacking, tuition by a qualified instructor is available on our well schooled horses, some of which compete up to international level in Endurance. (The yard specialises in training for Endurance.)
Ride lengths are usually 1½ or 3 hours, but day and multi-day rides can sometimes be arranged.
Depending on what horses are available, we have a weight limit of around 14 stone (86kg)
Contact: Candy Cameron
Telephone: 07973 815208
Loch Ness Riding, Dores, IV2 6TX.
E-mail us! or visit our website at www.lochnessriding.co.uk